Here we are at the end of summer, with just a handful of schools (my mother-in-law's included!) coming in at the tail end by starting their first day of school the day after Labor Day.  We're finishing up our Back-to-School Friday reviews and giveaways here at Dandy Giveaway with a FABULOUS giveaway that is designed more for parents than for kids!
I've always enjoyed the beginning of each New Year that allows me to make resolutions and re-evaluate priorities, and I feel strongly that the beginning of each new school year gives me another opportunity to do that halfway through the year.  I used to be incredibly skilled at time management and completing tasks but these are two areas that I feel are incredibly lacking since I became a mom.  I've seen lots of great ideas for organization to help stay on track, and these ones from Busy Babes Printables are so thorough and comprehensive!

I came across Busy Babes Printables on Etsy and immediately fell in LOVE with the documents available at this shop!  The colors are eye-catching while still feeling calm and organized, and I love the font and type styles that make everything look clean and crisp.  The shop owner, Laura, is a "busy babe" herself as she just started graduate school this week, and I'm confident that her own experiences have helped her develop these documents that have absolutely everything you'd ever need!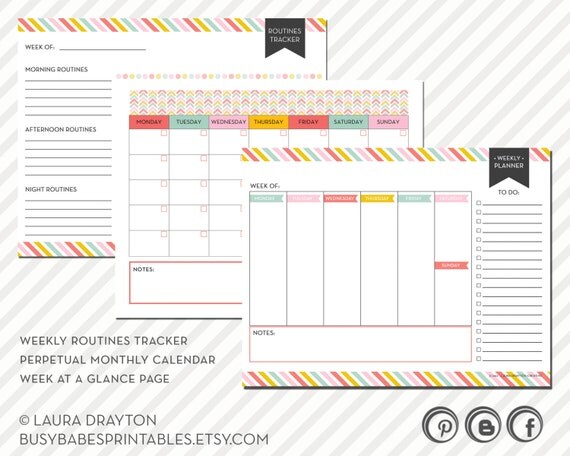 PRODUCTIVITY KIT:
– personalized daily planner
– weekly planner
– to do lists: a master to do list, and a weekly to do list
– routines tracker
– '8 a day' water drinking log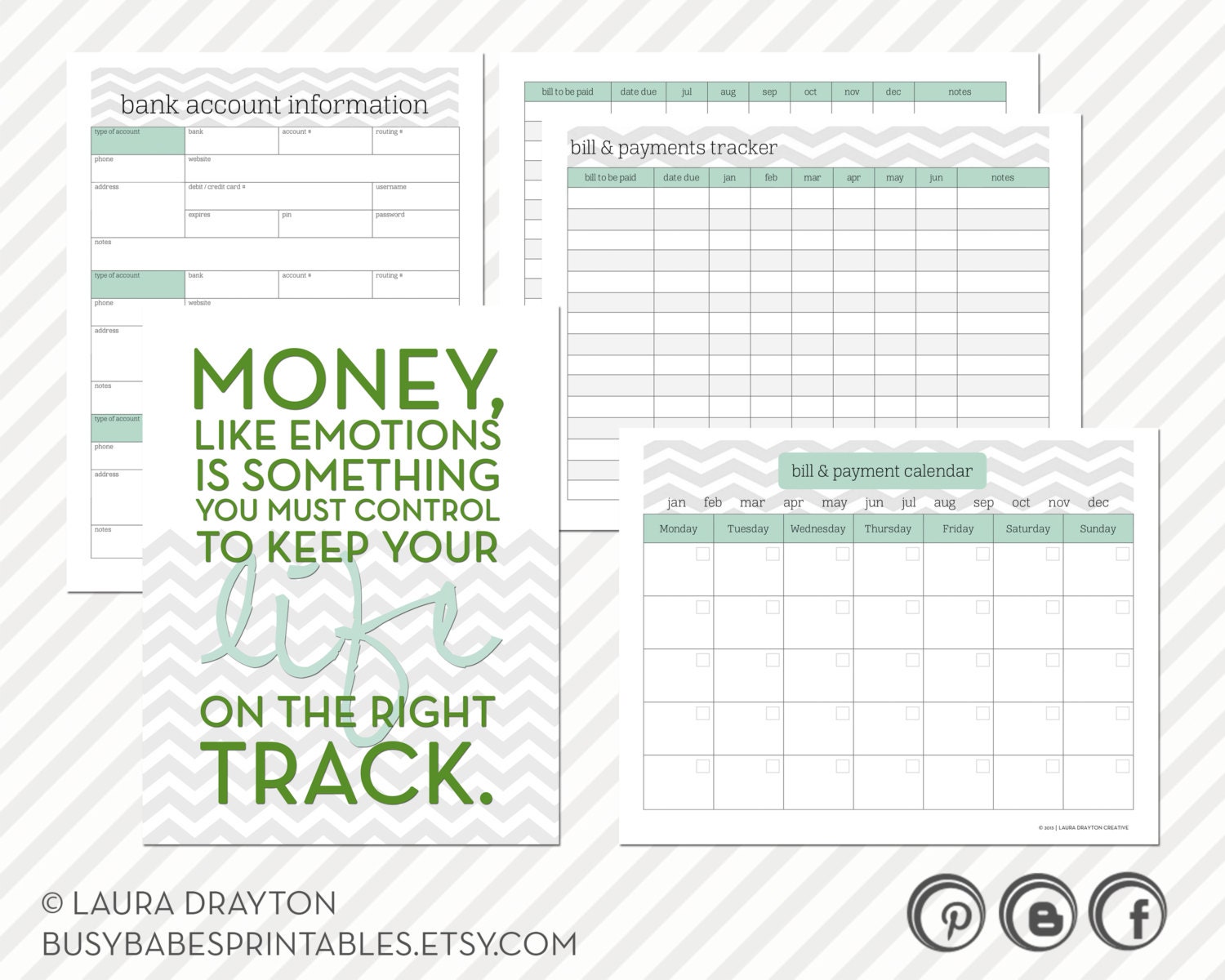 BUDGET & BILL PAY KIT:
– monthly budget planner
– bill and payment checklist
– monthly savings tracker
– debt summary
– money management quote page
– bank account information
– debt repayment plan
– check register
– bill/payments calendar
– financial balance sheet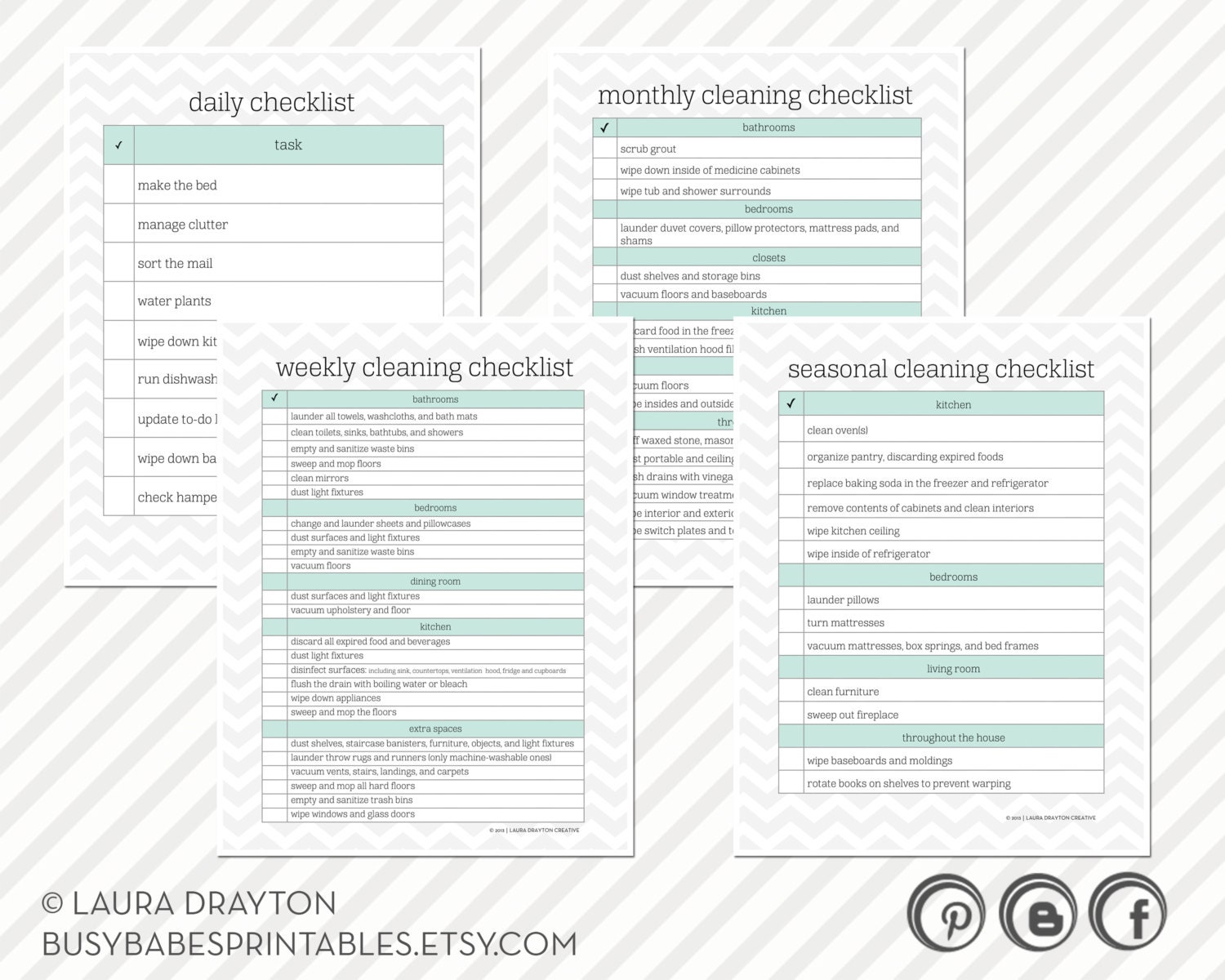 CLEAN HOME KIT:
– daily, weekly, monthly, and seasonal cleaning checklists
– yearly home maintenance checklists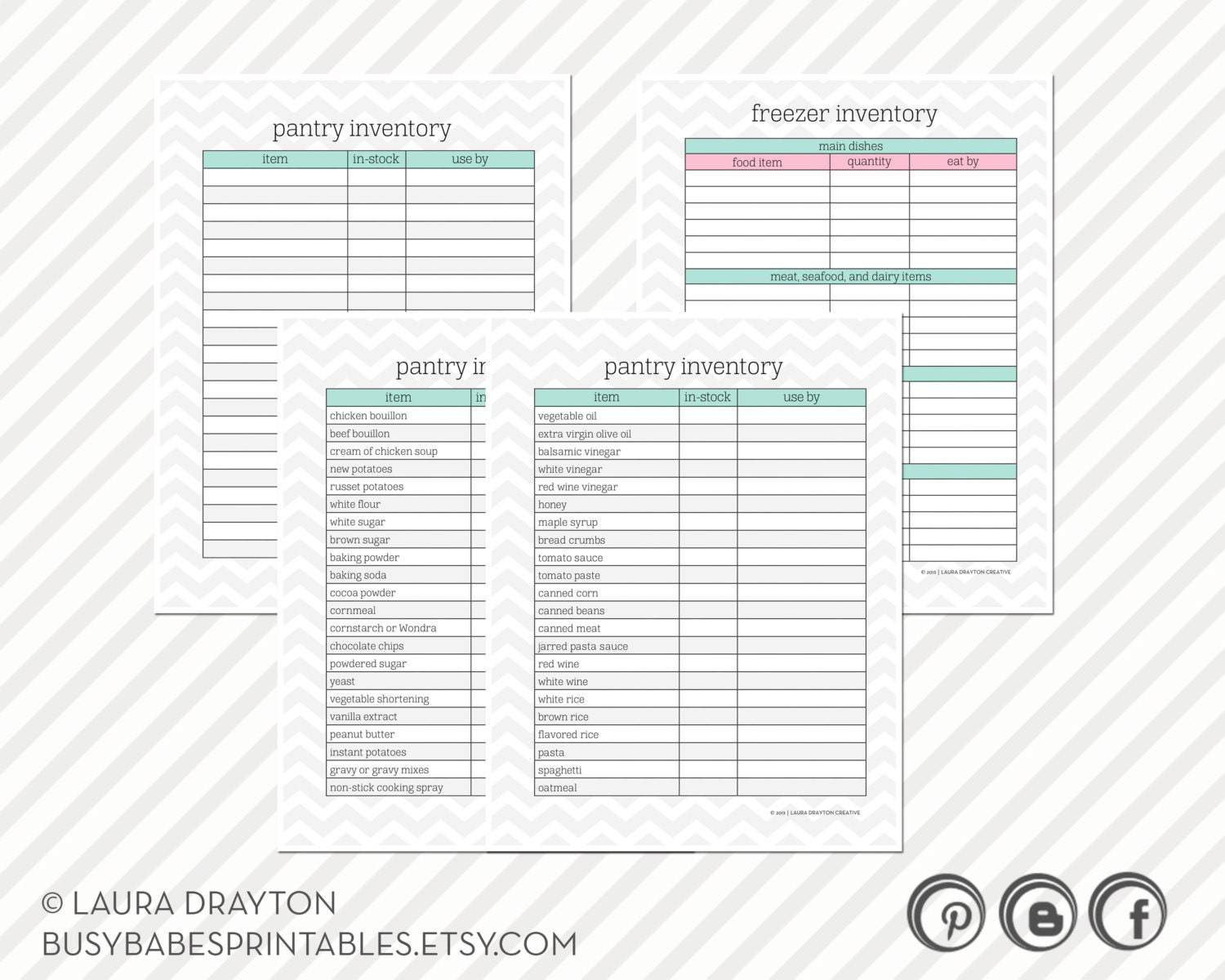 MENU PLANNING KIT:
– pantry and freezer inventories
– weekly meal planner
– monthly dinner planner
– coordinating blank recipe page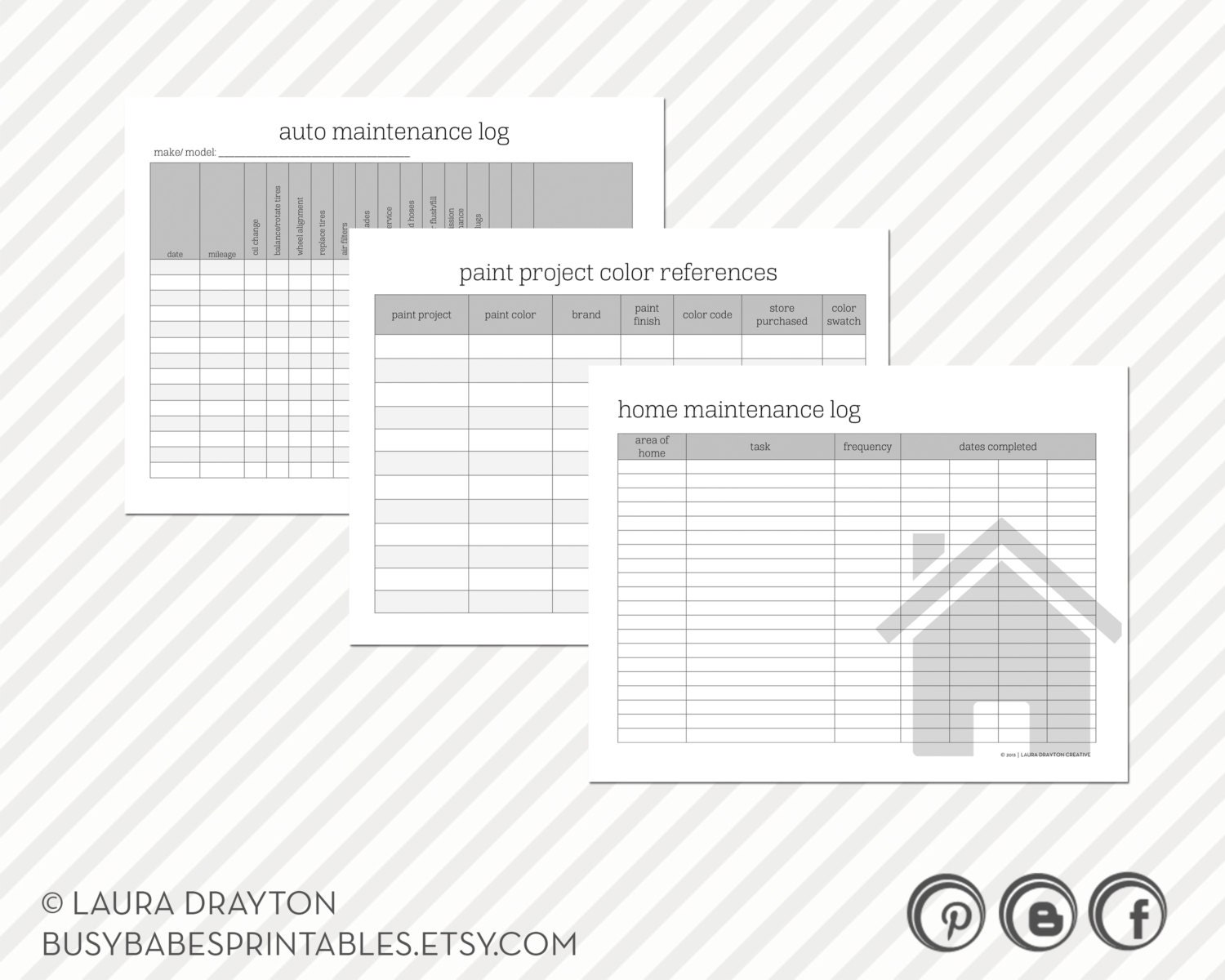 HOME MAINTENANCE KIT:
– home improvement projects list
– home maintenance log
– paint projects color log
– appliance maintenance log
– automobile maintenance log
– home maintenance checklist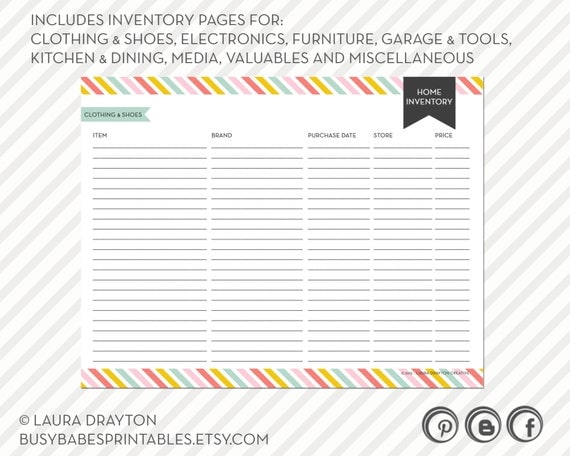 HOME INVENTORY:
– appliance index
– inventory logs for: clothing and shoes, furniture, electronics, valuables, kitchen and dining, media, garage and tools, and miscellaneous
– media inventory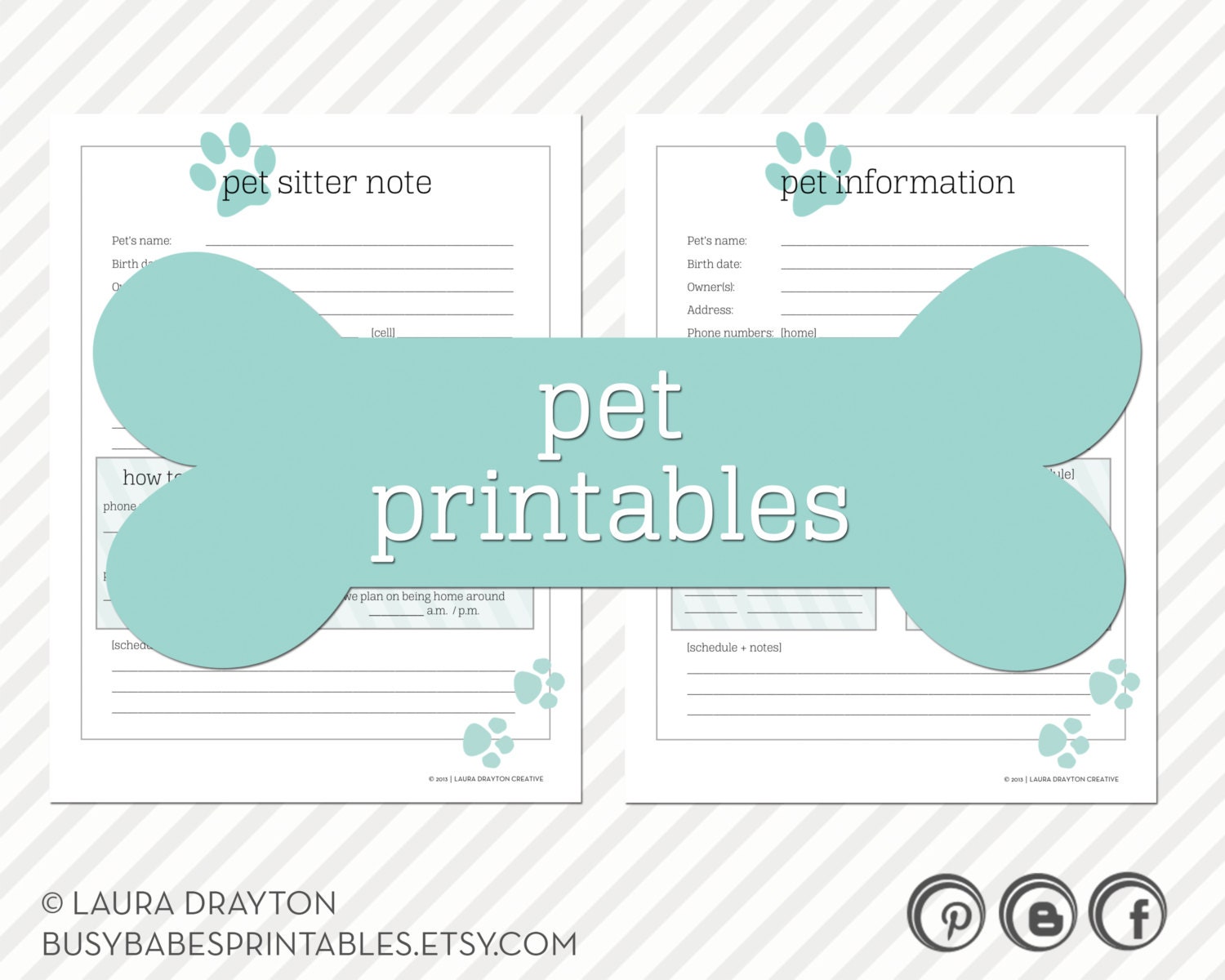 KIDS & PETS:
– babysitter note
– pet information page
– pet sitter note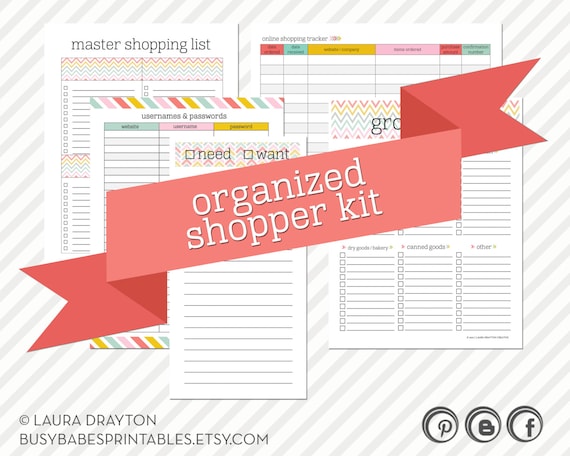 ORGANIZED SHOPPER KIT:
– grocery list
– need/want list
– everywhere shopping list
– online passwords and usernames log
– online shopping tracker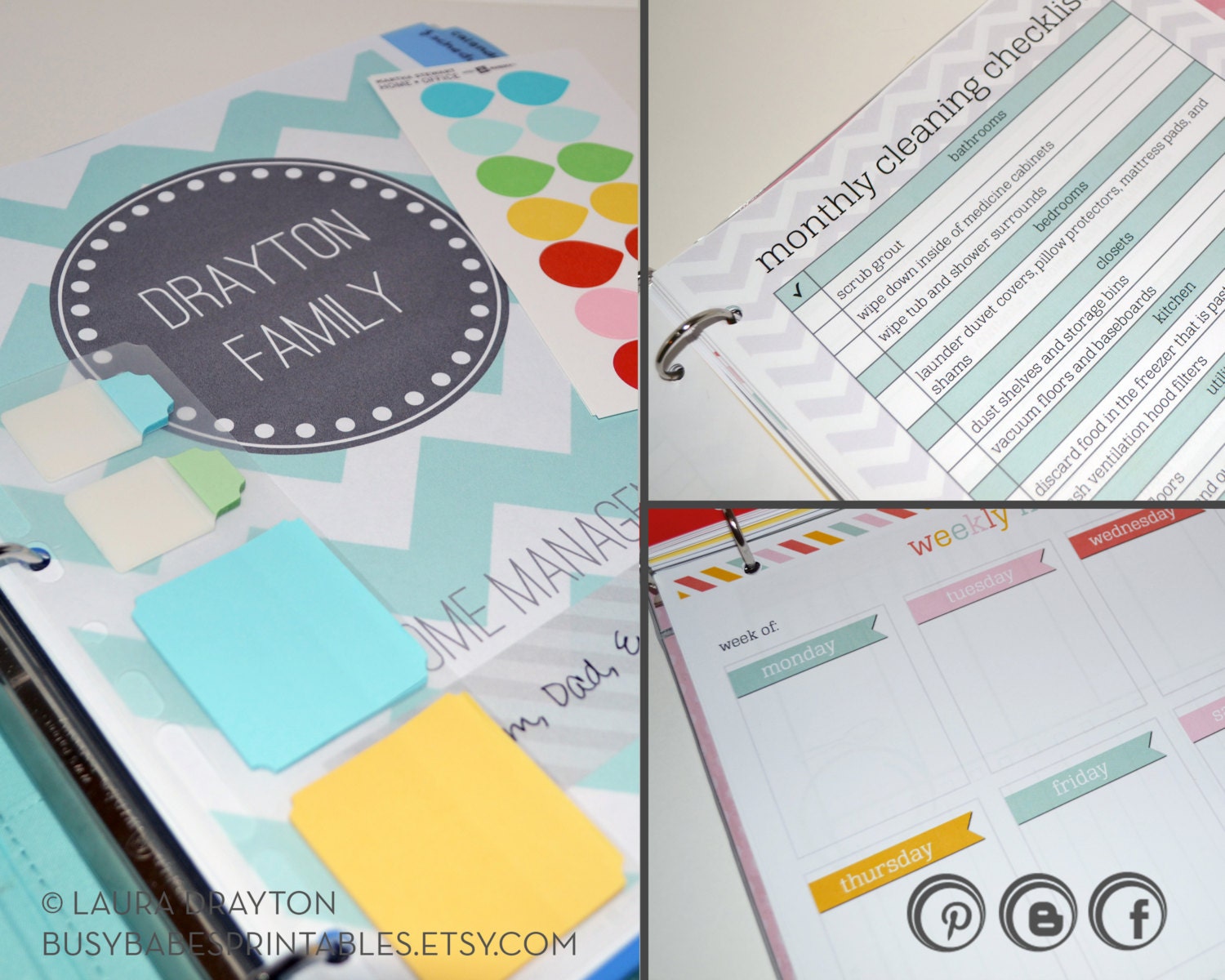 Household Management Binder Kit:  This kit comes with over 50 organizing printables!  All together, these printables create a great Home Management Binder system for your home, keeping all of your important information organized and centralized in one place. (Plus, with over 50 printables, you're saving a ton of money ordering all of these kits together!)
 This Personalized Home Management Binder Kit comes with EACH of the above kits ALONG WITH the following documents:
PLANNERS & CALENDARS: – perpetual calendar pages, both horizontal and vertical designs – weekly family schedule (with sections for each member of the family) – perpetual 'important dates' page
IMPORTANT INFORMATION & CONTACTS: – emergency information page – important information page – contact pages – important phone numbers page
When Laura says that you'll receive an INSTANT DOWNLOAD, she's serious about it — I had my entire Household Management Binder Kit personalized and sent to my e-mail address immediately with all of these great documents!  I spent the afternoon looking through everything and am looking forward to taking the weekend to fill in all the important information and organize these documents.
I'm especially excited about the Clean Home Kit and the Menu Planning Kit for the next several weeks as we attempt to maintain some sense of normalcy in the midst of a little boy making his grand appearance soon.  I've been cooking extra at each meal and stocking my freezer with extra meals and baked goods to tide us over until family comes to visit, and I'm happy to know that I'll have these materials available during the very sleep-deprived first month.
I'm also loving the Home Inventory Kit, especially after our home was broken into just a couple of months ago and some electronics were taken.  We had some serial numbers written down somewhere and had some serial numbers e-mailed to ourselves, but it would have been SO much easier to have all of that information right in our Household Management Binder to copy and send off with the detective.
One Dandy reader will win a Personalized Household Management Binder Kit from Busy Babes Printables!
** This giveaway is open to U.S.  entries only.
** The winner of this giveaway will be   drawn no later than the evening of September 7th and will be emailed  within 24 hours.  If the winner does not respond within 48 hours, a  new winner will be drawn.
** This posting and giveaway  were sponsored by Busy Babes Printables, but all  opinions are strictly my own.