Hey foodies!  We're so excited to be a part of Measuring Flower's 2013 Savory Summer Giveaway Hop!  No, this kitchen scale is not edible, but it can measure anything and everything edible, so I say, hey, it should count.
Our giveaway item here at Dandy Giveaway is sponsored by EatSmart, who carries some terrific kitchen scales, all designed to help you out in the kitchen while preparing dishes as well as effectively monitoring your food intake on (let's face it) all of our quests to stay in shape.
Let me preface by saying that I've wanted one of these FOREVER!!  I've been telling my husband we needed one of these for the longest time, and when a reviewing opportunity came up, I emailed him at work immediately to share my excitement!
Here is the EatSmartâ"¢ Precision Pro Digital Kitchen Scale.  There really isn't a better choice on the market.  This guy is so versatile and $25?  Shoot, son.  The glossy finish and vibrant red make it slick enough to leave out on the counter all the time, and it goes so well with my red kitchen decor :).
Remember our molten chocolate lava cake addiction, and how we have to make them nearly every Sunday?  Ya, I'm trying to do the whole close-your-eyes-and-guess-which-one-is-heavier game to get an accurate 5.75 oz. of chocolate.  We've been melting down wafers, chips, and bars, pretty much anything chocolate in the house, to get our fix, and the guessing was getting ridiculously inaccurate.  Thank you EatSmart, for making this part of baking a whole lot easier and now just funnest game for me!
This device couldn't be easier to use.  It even COMES with batteries, which is rare and quite a pleasant surprise.  Put in the batteries, turn it on.  My favorite part is the tare feature, where you can set on your container (such as your heavy ceramic bowl), then press tare, and the scale goes down the 0.0 oz.  From there, add your food and you are only measuring your chocolate chips, instead of the chips and the bowl.  100% useful.  You eliminate the weight of the container, plate, bowl, etc.
Now here's why my husband loves this.  Two words.  Pinewood Derby.  Nothin like taking the hassle out of hauling along the drill, the glue gun, and a jar of coins to the derby and frantically adding or subtracting weight minutes before the race begins.  And then think about mailing stuff!  Holy heck, I hate guessing!  I hate being unsure about postage, worrying about if I under-guess and it will be sent back to me, but I don't want to overpay, and it really is just another hassle to get to the post office atleast every week.  I'm an eBay-er.  Don't judge.
…
If these very strong reasons didn't talk you into getting an EatSmart kitchen scale, I don't know what will.  Next to my KitchenAid, this is my favorite kitchen gadget.  That's saying something.
…
Now enter to win your kitchen scale below!
And if you're a foodie, check out all the other grand food-related giveaways going on below, and hosted by
Measuring Flower
's 2013 Savory Summer Giveaway Hop!  Two grand prizes sponsors include
Calphalon
who is giving away a stainless steel cookware set worth $700 and
Volcano Grills
is giving away a prize pack (including one of their grills) worth $345!  That's over $1,000 in grand prizes!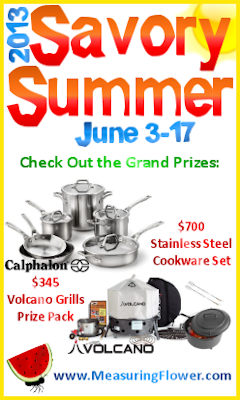 *This giveaway is open to US entries only *The winner of this giveaway will be drawn no later than the evening of June 18th and will be emailed.  If the winner does not respond within 48 hours, a new winner will be drawn. *This posting and giveaway were sponsored by EatSmart, but all opinions are strictly my own